Best Mid-range Electric Toothbrushes: Sonicare ProtectiveClean 6100, Oral-B Pro 2 vs Cheeeese
When it comes to electric toothbrushes, most people neither go with the cheapest nor the most expensive options. The underlying fact is that they do care about their dental health, but they have a budget. For this reason, mid-range dental care products are constantly developed to meet the surging demand.
Big players like Sonicare and Oral-B have been fighting for a larger market share with lots of affordable options. Meanwhile, driven by a rapidly increasing demand for ultrasonic toothbrushes, countless small players have joined the game and are eager to share a portion of the pie, leading to unprecedented levels of competition as well as progressive innovations in dental care.
Usually, small brands target niche markets with unique selling propositions. Cheeeese, one of the new players, has committed to creating true values for the users through innovations and services. It's actually good news to consumers as they have more options at a competitive price range. But on the other hand, this could be a little frustrating to choose from tons of options.
Each brand has its outstanding innovations, and key players have a variety of options from low-end to top-tier.
We've listed the best mid-range electric toothbrushes from several key factors: price, brush heads, features, brushing technology, battery life, design, and warranty. 
Price
In this case, price is most likely the decisive factor in choosing a mid-range electric toothbrush. However, it can be tricky to select a product based on its price. But most of the time, battery and features can be the major factors regardless of the name. The reason is straightforward.
In general, the larger capacity of a battery is, the more expensive a powered toothbrush will be. Furthermore, battery isn't just about the capacity. Safety is a big part of the cost breakdown.
Some features might require innovations that can directly double the cost.
We are going to cover these two parts in the following sections. Now let's take a look at the price of each:
Sonicare ProtectiveClean 6100: $ 109.95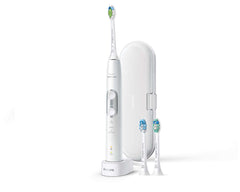 Oral-B Pro 2: $114
Cheeeese Ultraclean toothbrush: $99.99
Regardless of the name, these are the selected options at a similar price range. Before knowing the other key factors, it's not convincing to say the most expensive one must be the right one for you. In many cases, consumers usually pay more only for the big name.
Of course, big sellers are more reliable in terms of overall quality control and aftersales services. Small ambitious players are striving to find solid solutions to improve the existing innovations that might be easily overlooked by those giants of dental care. So to speak, that's usually where the pain points of our consumers come from, which in turn lies the opportunities for small brands. Indeed, it's exciting to see what innovative solutions those new players would bring to the market.
Brush Heads
Brush head seems to be often overlooked by most consumers. Actually, poor or unsuitable bristles can cause gum discomfort or issues, especially when with a wrong brushing technique. To some extent, a pressure sensor gives you an alert if you are brushing too hard but doesn't guarantee gumline protection if the bristles are not adequately designed.
We've listed the spec. of the brush head for each model in the  : 
Model

Standard brush head

Brush head design

Bristles design

Bristles stiffness feel

Reminder bristles

Complimentary brush heads

Sonicare ProtectiveClean 6100

W DiamondClean standard

Oval shape

Diamond-shaped

Medium

Blue bristle

No

Oral-B Pro 2

Sensitive Clean Toothbrush Head

Round shape

Criss-cross

Regular & soft

No

No

Cheeeese Ultraclean

Cheeeese 3DClean Brush Head

Oval  shape

3D with round grinding

x 2 Medium

 

x1 Ultra soft

Optional

x 1 Cheeeese 3DClean Brush Head

x 1 Cheeeese SmartCare Brush Head (w/reminder bristles)

x 1 Cheeeese UltraCare Brush Head (w/ultra-soft bristles for sensitive gums)

 
From the table, we can see that Sonicare and Oral-B do pay attention to small details, such as design, stiffness feel, and smart reminder for replacement. But if you take a look at the last column, it's not difficult to tell that Cheeeese does know what today's consumers are looking for. For example, Cheeeese Box comes with 3 types of brushing heads for different dental needs.
Sonicare wants to keep the "traditional" brushing feel with an oblong brush head.
Oral-B is trying to overthrow the "tradition" with twisted bristle technology. It's impressive, but the head is too big for some people who have wisdom teeth to reach the wisdom tooth's area.
To enter this crowded dental care sector, Cheeeese put a lot of effort into product development. They innovate oral care products that meet everyone's dental needs with added values. With this ambitious move, they strive to create true values for everyone.
Features
As one of the major pricing factors, brands never get tired of new technology as consumers are always curious about novelty. Oral-B and Sonicare have contributed a lot to dental care. Consumers usually know what basic features they can expect for a mid-range powered toothbrush. The top 3 features are a built-in timer, multiple brushing models for different needs, and a pressure sensor.
| | | | |
| --- | --- | --- | --- |
| Top features | Sonicare ProtectiveClean 6100 | Oral-B Pro 2 | Cheeeese Ultraclean |
| Brushing modes | Clean, Gum Care, White | Daily Clean, Sensitive | Sensitive, Intense Clean, Whitening |
| A two-minute timer | ✓ | ✓ | ✓ |
| A timer that notifies you to change your bushing area every 30 seconds | ✓ | ✓ | ✓ |
| Pressure sensor | ✓ | ✓ |   |
| Fast charging | ✓ | ✓ | ✓ |
| Interactive color display |   |   | ✓ |
| Available colorways | 4 | 2 | 5 |
The table above shows that not all mid-range electric toothbrushes are multiple brushing models enabled. The reason is simple: the price.
Brands need to keep the retail price within a range to meet greater demand. So, if you have sensitive gums and want a whiter smile, Cheeeese could be the right option.
Brushing Technology
Not all powered toothbrushes use the same brushing technology.
Sonicare ProtectiveClean 6100 uses sonic technology, while Oral-B Pro 2 uses micro-motion. Cheeeese employs a powerful combination of high-frequency vibration magnetic levitation and micro-motion (under sensitive brushing mode).
Brushing technology has a lot to do with the motor.
Oral-B moves in a rotary motion, which means you need to brush your teeth one by one.
Both Sonicare and Cheeeese brush side-to-side. Cheeeese differs from Sonicare in the mechanism of the motor, though they do similar work.
It's difficult to say which technology works better, but Sonicare and Cheeeese won the ticket to the best choice considering the brushing models.
Battery Life
As mentioned above, battery is one of two major pricing factors. Researchers found that Sonicare outperformed Oral-B in battery performance. In general, brands take it seriously in battery safety and life span. So, battery life span is less likely to be a major concern.
With mature technology, a 2-week battery life per charge is most likely the must-have for a mid-range powered toothbrush. As top-tier players, neither Sonicare nor Oral-B wants to compromise on this "commonly 2-week standard."
Surprisingly, Cheeeese absolutely nailed it with its outstanding battery life — 300 days per charge, making it the BEST for Travel Electric Toothbrush compared with tons of mid-range options.
Design
Design isn't just about aesthetic but also how it affects user experience. These are the key factors to consider:
·         Waterproof:
This has become an entry-level standard. Sonicare and Oral-B didn't give any information about IP rating. Cheeeese has an IPX7 rating.
·         Aesthetic:
Sonicare and Cheeeese understand pretty well the importance of slim ergonomic design. Unfortunately, Oral-B Pro 2 is a little far away from the feeling of aesthetic.
Effortless to clean:
A round-shaped handle usually is easier to clean after use. Sonicare and Cheeese are definitely the safer options.
Oral-B is risky as the handle is not round and smooth designed.
·         Charger:
Sonicare and Oral-B require a charging dock, while Cheeeese can be recharged anywhere with a type-c cable.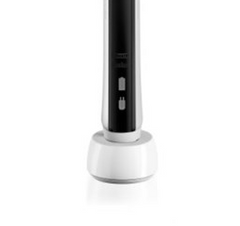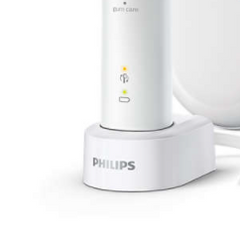 For the look, it's only a personal preference. But for user experience, Sonicare or Cheeeese will be less likely to disappoint you, taking into consideration how easy to clean the handle.
Warranty
Sonicare and Oral-B provide a 2-year warranty with a commitment of repair or replacement for free.
Cheeeese did an upgrade with a 3-year warranty. Cheeeese provides replace service for 2 years and repair for the third year since the day of purchase.
Key Takeaways:
To conclude, each model has its pros and cons. In the following table, you will find the key factors to consider which one to choose:
Model

Price

Brush head options

Features

Brushing Technology

Battery Life

Accessories

Warranty

Sonicare ProtectiveClean 6100

$109.95

Diamond-shaped

3 modes

Sonic motion

15 days per charge

Travel Case

2 years

Oral-B Pro 2

$114

Round-shaped

2 modes

Micro-vibration

15 days per charge

-

2 years

Cheeeese Ultraclean

$99.99

x1 Oval 3D-cut w/round grinding.

x1 Oval shape w/smart bristles.

x1 Oval shape w/ultra-soft bristles.

 

3 modes

Micro- vibration &

High-frequency vibration magnetic levitation

 

300 days per charge 

x3  brush head replacements.

x1 Lightweight travel case

3 years
Compared with Cheeeese, Sonicare and Oral-B are less competitive in the brush head, battery life, and warranty.
If you are looking for a big name, Sonicare or Oral-B is the way to go.
But if you are looking for trying out new things, Cheeeese is a smart choice.