Can I Take an Electric Toothbrush on a Plane 2022? | Cheeeese
First of all, you can fly with an electric toothbrush. You don't want to skip your daily premium brushing even when you are on the go, and we know that. But there's much more you should know before traveling, including how to pack your electric toothbrush properly.
Here's what you need to know:
What is an electric toothbrush?
Sometimes it can be confusing when we talk about "electric toothbrush." An electric toothbrush is also known as ultrasonic toothbrush, but not a battery toothbrush.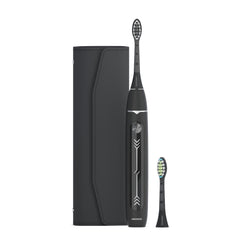 Technically, an electric toothbrush is rechargeable and lithium-ion/Ni-Cd/Ni-MH battery powered. The rechargeable battery is installed in the toothbrush itself and is not replaceable. When the power is on, an electric toothbrush starts to work.
What kinds of lithium-ion batteries in devices are allowed on a plane?
The FAA (Federal Aviation Administration) clarifies that rechargeable lithium-ion batteries in devices are permitted in carry-on and checked bags (except E-cigarettes and vaporizers).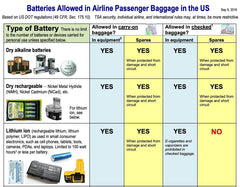 Source: The FAA (Federal Aviation Administration), last updated: January 13, 2022 1:16:20 PM EST
Generally, most electric toothbrushes are operated by rechargeable lithium-ion batteries. You can't replace the lithium-ion battery in your electric toothbrush as it's installed for safety purposes. In other words, if your electric toothbrush is powered by a rechargeable lithium-ion battery, you are good to bring it with you on the plane or carry it in hold luggage.
Regulations and rules in different regions
In general, electric toothbrushes are allowed in carry-on bags on the plane or checked luggage in the hold. However, the regulations and rules might vary depending on the regions and airlines. You should check the regulations respectively before traveling. Here's what we've found for the US and the UK.
-          The US
According to the TSA, lithium-ion electric toothbrushes are safe on a plane in carry-on bags or checked bags. But when it's possible, you should carry them in carry-on luggage for safety reasons, suggested by the FAA (Federal Aviation Administration).
There's a risk that lithium-ion battery electric devices capable of generating extreme heat could cause a fire, especially when the power of the devices is not entirely off.
Lithium-ion devices (including electric toothbrushes) are permitted in carry-on and checked bags because the battery is installed and sealed in the product. When the battery is not tight, it could generate heat at dangerous levels and cause a short circuit that could start a fire. That's why uninstalled or spare lithium-ion batteries are always banned in checked luggage. Even in carry-on bags, they must be individually and properly packed to prevent accidental activation or damage. And you should always check with your airlines individually about the rules and permission.
Source: TSA (Transportation Security Administration).
If your electric toothbrush started a fire in the cabin accidentally, you still have the chance to put it out. There's not necessary to take the risk when it's possible to bring it with you in your carry-on bags.
Besides safety concerns, there're two things you shouldn't neglect:
First, it's rare but possible that your hold luggage might get lost or delayed.
Someone might steal your electric toothbrush when it costs some money.
-          The UK
CAA (UK Civil Aviation Authority) clarifies lithium-ion portable electric devices are permitted in carry-on and checked baggage. Similarly, CAA suggests that your electric toothbrushes should be carried in your carry-on bag for safety purposes when it's possible. Also, the UK government suggests you should check with your airlines before travel when you are not sure if you can fly with your devices.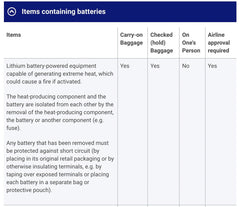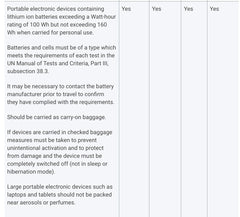 Source: CAA (UK Civil Aviation Authority)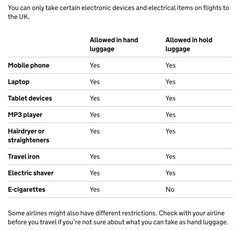 Source: GOV.UK, Hand luggage restrictions at UK airports
How should I pack my electric toothbrush before traveling?
According to TSA and CAA, making sure your devices are completely switched off is critical before filling in your luggage. For safety reasons, it's wise to pack it well in a travel case. For example, a case could protect your electric toothbrush from unintentional damage and reduce the risk of activation of heating elements

How many electric toothbrushes can I take on a plane?
TSA clarifies "no quantity limits for 'personal use*,'" but it doesn't mean you can carry as many as you want.
The regulation says each lithium-ion battery should be limited to "a Watt-hour (Wh) rating of 100 Wh," and "with the approval of the operator, portable electronic devices may contain lithium ion batteries exceeding 100 Wh, but not exceeding 160 Wh and no more than two individually protected lithium ion batteries each exceeding 100 Wh, but not exceeding 160 Wh, may be carried per person as spare batteries in carry-on baggage."

Source: Code of Federal Regulations, § 175.10 Exceptions for passengers, crewmembers, and air operators.
Since regulations may vary in different regions, it's wise to always check with your airlines if you plan to bring more than one electric toothbrush with you.
Conclusion
To conclude, lithium-ion electric toothbrushes are not a significant concern to airlines when carried in a carry-on bag. You can bring your electric toothbrush in checked baggage but don't take the risk when it's unnecessary. You should always make sure the power is completely switched off. For a safe and pleasant trip, you should also contact your airlines to see if they have different restrictions.