Dental Care Shouldn't Be a Luxury | Cheeeese
Despite the fact that daily dental care products have become more accessible to most people, dental care is still considered a luxury. Dentistry and medicine are separate in most countries, even though the gap continues to decrease. Dental treatments are only partially or not covered by medical or regular health insurance.
Medical plans usually don't cover regular teeth cleaning services that can prevent dental diseases. However, "oral health is the gateway to our overall health," said many dentists.
Why don't people treat their teeth like the rest of their bodies?
It's not easy to explain why in one sentence. The underlying reason could be higher premiums make dental plans less appealing. There would be hope to eventually merge medical and dental plans, but it's nearly impossible to change the situation overnight.
Given that most dental diseases are preventable, we will address the significant global problems in oral care and provide useful resources to reduce the risk of dental diseases in this post.
Global Dental Care Inequalities
According to the WHO, nearly 3.5 billion people worldwide are affected by oral diseases, estimated by the Global Burden of Disease Study 2017.
These dental diseases are preventable. Although the prevalence of oral diseases continues to increase and the oral health inequalities have been addressed, the figures in dental caries are shocking:
3 billion people suffer from dental caries of permanent teeth.
More than 530 million children suffer from dental caries of primary teeth.
The primary reasons are unequal access to oral care education/products/services and misguided diet (high sugar intake from foods and beverages).
Dental Care Should Be More Accessible to Everyone
To narrow the gap of oral health inequalities, the most effective way is to make dental care more accessible and provide free oral care education and resources for everyone.
Theoretically speaking, good oral hygiene can be easy to maintain as long as you have a proper oral care routine. Your routine should cover regular dental check-ups and a healthy dental diet/lifestyle apart from daily brushing and flossing. In other words, dental care starts with proper daily brushing and flossing at home. However, the situation is more complex as every smile is unique.
The complexity of oral structure and hygiene has been a challenge for us. This also has stimulated the growth of the dental care industry. Of course, we can't deny the contribution the industry has made to our society: various dental care products, innovative technologies in dentistry, and more can be expected.
Indeed, AI-enabled toothbrushes should be encouraged. The app will guide you to brush and track your oral hygiene. But remember, affordable electric toothbrushes shouldn't be ignored. Innovations are absolutely needed and encouraged in traditional ultrasonic toothbrushes. Similarly, the quality of manual toothbrushes should also be improved for the poor or those who have no access to powered toothbrushes temporarily. The basic rule is to make sure everyone's smile is taken care of.
Even when you are on the go, smiles shouldn't be neglected.
Dental care brands have thought of that. Travel electric toothbrushes with big battery life and multiple brush head replacements are available to take care of your smile.
The industry has responded to this critical global initiative by working on the supply chains to reduce the cost of design and production. The mutual goal is to provide affordable dental care products to narrow the gap of oral health inequalities.
The communities' job is to raise awareness of oral disease prevention. Nevertheless, success in tackling this inequality requires every individual's participation. After all, we are responsible for our own health. So, here's one thing everyone can do—treat our teeth like the test of our bodies.
Each of us can be an influencer. For example, when you take care of your oral health, you encourage more people to do the same by showing healthy and confident smiles within the communities.
Smiles should be shared, and dental care should be more accessible and affordable to everyone.
Final Thoughts
"Oral health is the gateway to our overall health. "
Poor oral hygiene can lead to dental diseases, increasing the risk of systemic diseases.
Moreover, having to worry about the medical fees of other conditions brings more burden to the poor.
In addition, a healthy smile improves the quality of our everyday lives. Your overall health also benefits a lot from a healthy smile. It gives you the confidence to express and smile freely.
Smiles are free and priceless.
Similarly, proper dental care shouldn't be a luxury. Instead, it should be more accessible to everyone.
You are invited to join our Dare to Cheeeese Community!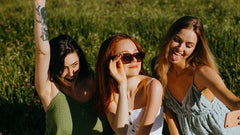 To empower more people to take care of their teeth like the rest of their bodies.
To raise awareness of global dental care inequalities.
To strive for more healthy and brighter smiles.