Electric Toothbrush Heads Cost Reviewed | Cheeeese
Introduction 
Brushing your teeth and having fresh breath is an everyday requirement that allows everyone to feel comfortable in their environment and especially in their relationships with those around them. Initially, the manual toothbrush was the perfect way to get this feeling. But over time, an electric variant of the toothbrush emerged that was found to be twice as efficient as the base model. The latter has not, however, fallen into oblivion even if the electric model is gaining more and more ground.
Today to increase the efficiency of toothbrushing we recommend that you buy an electric toothbrush but to be able to choose if we have made a ranking of the best electric toothbrushes according to our tests, the value for money especially the cost of the head brushes to continue using healthy after principal buying, the opinions Internet users as well as tests and opinions from various specialist newspapers such as 66 million consumers. So, without further delay, discover the promotions on electric toothbrushes and the comparison of the best electric toothbrushes.
Summary of the Costs of brush heads replacement during the two years
Users of Quip and Burst told us there's a lot to like and only a few things they don't like.
Electric toothbrush subscription services like Quip and Burst function on a simple premise: they advertise themselves as a handy "set it and forget it" solution that takes the guesswork out of whether to replace your brush head. Customers pay a one-time price for their first full brush set and then pay a fixed amount for replacement heads regularly. Some providers additionally provide extra product refills, such as toothpaste and dental floss.
Will one of these services, however, be beneficial to you? Cheeeese looked into it and performed research with Quip and Burst members to see if an electric toothbrush subscription would be a good match for them.
The American Dental Association also suggests replacing your brush every three to four months, or if the bristles become "visibly matted or torn." If you're having problems keeping up with this on your own, consider signing up for an electric toothbrush subscription, which typically sends replacement heads every three months or on a personalized schedule.
If you don't want to bother with canceling or changing a membership, or if you're already a meticulous brusher who replaces your toothbrush regularly although this can be a burden on your wallet.
We learned more from Subscribers of electric toothbrushes
Previous Cheeeese testing of eight electric toothbrushes included professional dental hygienist ratings of how well each brush functioned. We're presently evaluating brushes from Quip and Burst in the lab and should have findings shortly, but in the meanwhile, participants in our recent research offered Cheeeese extensive information about how individuals who use these two products (and pay for memberships) feel about their experiences
Participants offered feedback and a numerical score for their electric toothbrush subscription in four main areas:
Ordering and receiving: This section included questions such as how simple it was to choose a toothbrush and subscription plan from the manufacturer, as well as how enthusiastic customers were when they first received the new brush.
Use and maintenance: Users shared their thoughts on how to hold and handle the toothbrush, how to change the brush head, how to keep the toothbrush charged, and how to keep it clean.
Sustaining subscription: This metric measured how satisfied consumers were with the frequency and timeliness with which brush heads were replaced.
Changing or canceling a subscription: Participants described (and demonstrated) how easy or difficult it was to modify or cancel their subscription choices.
Subscription Boxes Have Some Drawbacks
Subscription purchasing offers several disadvantages. The most evident is that most providers do not allow you to select the things you receive. You get the pleasure of anticipating a surprise delivery, but the surprise isn't necessarily nice when you open it. You could end up having a lot of items you don't want and not enough of what you do.
Two years of Cost of cheeeese 
Three brush heads come packed with Cheeeese electric toothbrushes, this can serve you for 12 months. This is counted based on dentist's suggestion to change the brush head every three months.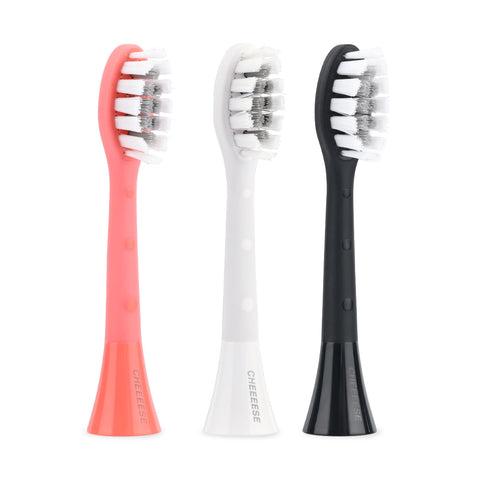 Cheeeese provides different types of brush heads to help users to find the best suitable for their teeth. The team will not wait 12 months to offer other brush heads, instead they promise the customer to send an email to request other 2 free brush heads just three months after the customer received their first package.
That's not all, Cheeeese team also offers 2 more free burhs heads after another three months after the customer has received the first gift of 2 brush heads.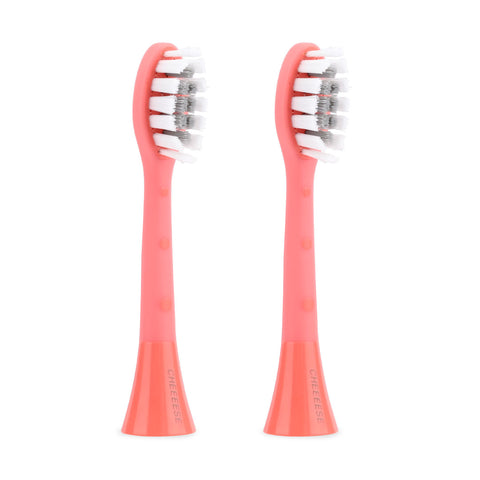 To sum up, during 6 months, the customer freely acquires 8 brush heads: 4 brush heads comes with the Cheeeese electric toothbrush in the same package, while other 4 brush head comes in two batches every three months.
According to the dentist's recommendations to change the brush head every three months, the 8 brush heads from Cheeeese can be used for 24 months without extra expenses.
In two years time span, Cheeeese users will not need to buy another brush head, therefore the total additional cost will be $0.
Two years costs of Oral-B Pro 2000 Brush head replacement
As we read the information from Amazon, Compatible: The toothbrush is compatible with all genuine Oral-B toothbrush heads; 3D white, cross-action, floss action, precision clean, sensitive, or tri-zone. Included: One electric toothbrush handle, the li-ion battery lasts up to two weeks of charge, one cross-action toothbrush head, charger with 2 pin UK plug; made in Germany
According to Amazon's "buy together" information you can buy another Oral-B Pro 2000 for 4.78 USD per head.
Oral-b offers only 1 brush head in the package and others are compatible with Oral-B Pro 2000 and can be bought separately. The Oral-B brush heads prices vary from $4.78 to $15.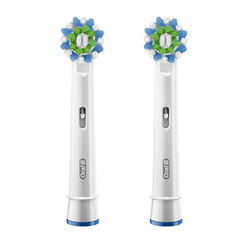 For the following two years, the first brush head will serve for the first three months, the additional 7 brush heads will be needed to complete two years, therefore the additional costs will range from $33.46 to $105.
On the official website, the price is higher https://oralb.com/shop/clic-toothbrush/
This electric toothbrush is designed to consider brushing teeth in 3D. Thus, it not only cleans the front of the teeth, but also the circumference, the interdental areas thanks to movements of pulsations, rotations, and oscillations. The Oral-B Pro 2000 CrossAction electric brush is advertised to remove all 
Two years of Cost on Burst 
The cost for Burst Head Brushes costs 7 USD every 4 months or 8 one-time purchases for every three months as recommended by dentists. 
In the event the user buys the first package from Burst electric toothbrush with contains 1 brush head, the rest 21 months will need 7 brush heads, which will cost $36.75 if you subscribe for $7 every 4 months or $56 if you buy each brush head at $8 for every 3 months.
Two years of cost of Quip Electric Toothbrush Heads
Quip offers a relatively cheaper subscription by providing a refill of $5 every three months which covers 1 Quip electric toothbrush. The other 7 head brushes will need $35 to change toothbrush brush heads every three months within 2 years.
The Quip model is sometimes available on Amazon. The Smart plastic version is priced at $ 45 and the metal version at $ 60. In addition, it is possible to choose the option of a personalized subscription which allows you to add and remove elements to create a set of products to be delivered to you on a one-off or regular basis.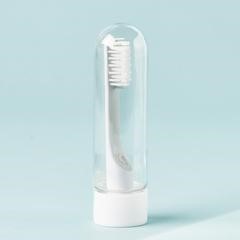 So, as with the original Quip brush, @Quip's emphasis is on subscribing to regular shipments of brush head refills at 3-month intervals for $ 5.
The contents of the box include:
The Quip smart electric toothbrush (black metal or white plastic)
1 brush head
One AAA battery (replaceable by a rechargeable model)
A carrying case
Documentation.
Maintenance of electric toothbrush heads
To limit wear and tear on your brush head and protect it from bacteria, it is important to take care of it and more particularly to:
Do not press too hard on the teeth when brushing to avoid premature wear of the bristles
Used toothbrushes It is best to avoid placing several toothbrushes in a cup as bacteria could easily pass from one brush to another
Rinse the brush head well after each brushing to remove toothpaste residue and dirt
Store your toothbrush vertically so it dries faster
Avoid placing it in a cup in contact with other toothbrushes
Use a carrying case or box when going on a trip
By using your electric toothbrush correctly and by taking care of its cleaning and storage, you will prolong the life of the brush head and prevent the proliferation of bacteria that can be harmful to your health.
When to change your brush heads?
electric toothbrush head It is important to change the brush head every 3 months at most or sooner if the bristles are damaged
To ensure maximum efficiency from electric toothbrush heads, dentists recommend changing them every 3 to 4 months or even before the bristles start to spread.
Several brands, and in particular Oral-B, also use a brush bristle coloring system to indicate wear: generally blue, the bristles naturally fade in 3 months with normal use (twice a day. A day for 2 minutes).
By not replacing your electric toothbrush head when it is worn out, you run the risk of:
Decrease the effectiveness of brushing by removing less dental plaque
Developing an oral infection
Injure your gums with threadbare hairs
Moreover, even if the bristles are not yet worn, it is recommended to change the brush head after being sick to avoid new contamination. The bacteria present on the bristles of the toothbrush are not destroyed by the toothpaste or by rinsing after brushing. On the contrary, they particularly like humid environments and develop very quickly.
Conclusion
Regardless of the brand of your electric toothbrush, if you have chosen a rechargeable model, you will need to change the brush head every 3 months or so. To benefit from effective brushing while preserving your teeth and gums, it is better to opt for a model adapted to your current needs, without hesitating to change it if your dental situation changes. And don't forget to clean and store your brushes so that you can use them longer!